Elementary and Junior High Programs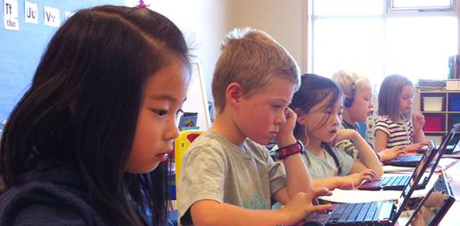 At Esther Starkman School, we offer all students the full complement of core classes as outlined by the Alberta Provincial Curriculum, as well as French as a second language from grades four to nine. We are an inclusive learning community that inspires and enables all students to achieve success in learning. Our staff is committed to adapting curriculum to meet the varying needs of students and providing the support necessary for their success.
We work as a professional learning community engaging in job embedded professional development on a weekly basis. Our teachers are learners themselves, constantly improving their instructional practices and collaborating to create a diverse and rewarding classroom experience.
 BAND
We are very lucky to have strong music teachers at our school and we have had great success at Band Festivals over the last few years. In addition we have wonderful Christmas concerts that have been held at the Jubilee Auditorium, highlighting the Band and the musical talent of our students..
‌
Grade 7 - 9 Options Descriptions
---
Art
Junior High Art is an exploratory course that involves students in many different art-making opportunities. Students will be exposed to different media each year, and have the opportunity to refine their skills in Drawing and Composition. Students will practice their skills as art critics and patrons, in order to develop a life-long appreciation for the place Art can have in their lives. One unit per semester will be devoted to studying a culture or Master Artist that is important to the history of Art. Students will keep a sketchbook. They will also collect their artwork in a portfolio so that they can keep a record of their progress over the course of time.
Band (full-year)
The Esther Starkman Band Program gives Junior High students the opportunity to further develop the knowledge and skills needed for practical music making.
Through performance in band, students will work as a group towards musical mastery and musical appreciation.
Students will also have an opportunity to participate in various field trips over the school year such as band camp, music festivals, and band trips.
*Band is a full year option.
Building and Construction
This program at Esther Starkman is exploratory in nature. Students will work on a number of different projects in woods to develop skills and attitudes they need to safely build a quality product. There is a focus on students designing and building their own projects. Students are invited to take their projects home at the end of the course.
Drama
At the Junior High level, Drama provides the opportunities for students to explore their personal connection to the world through role-playing, co-operative games and practicing performance skills. The course focuses on the skills of communication, concentration and control, within the context of dramatic experiences in Speech, Movement, Improvisation/Acting and Technical Theatre. Students will have many opportunities to apply their skills in a classroom setting with presentations and projects. There is a possibility of a public performance as time and student interest warrant.
*Drama is a full year option.
Foods
Foods is a hands-on course that will provide an introduction to safety in the kitchen and allow students to begin to explore recipes that are nutritious and delicious. To begin, our studies in the classroom will focus on obtaining background information about key practices to ensure the safety of yourself and others. We then move to practical experiences in the Foods lab where we will create healthy snacks and light meals. As well, throughout the semester we will explore proper nutrition and incorporate quality choices in the foods we prepare.
Media Studies (half-year)
In the Media option, students discover the impact of the media and develop fundamental skills to relay a message effectively using various forms of media; e.g., photography, web and audio or video production. Students are also introduced to the basics of graphic design and are part of the creation process for the Starkman yearbook.
Leadership
In Leadership, students will engage in a variety of activities designed to enhance the culture and community of the school. Examples include leading celebratory assemblies, seasonal celebrations, organizing extracurricular events, such as dances, intramurals, fund raising events and other similar community service projects.
Sports Recreation
In the Sports Recreation program, students will be enriched in a variety of sports and physical wellness activities and experiences. Examples can include, but are not limited to wall climbing, skating, swimming, snowshoeing, fencing, biking. Classes will be a combination of on site and off site experiences. Please note, there will be additional monthly fees for this option.
Strategy & Design
This course is an exploratory option designed to introduce students to the world of boardgames (tile laying, hidden role, worker placement, abstract, etc.). There will be a focus on teamwork and fair play as we spend time playing games specifically selected to showcase various themes or strategy mechanics and then students will design a prototype for their own game.
Communication Technology
In Communication Technology, students will investigate, interpret, and practice techniques used in film and other media to communicate ideas. We will look at how cinematic techniques such as camera angles, framing, and montages contribute to storytelling and characterization in film. Throughout this option, students will be practicing the techniques they learn by creating their own videos.