Biography of Esther Starkman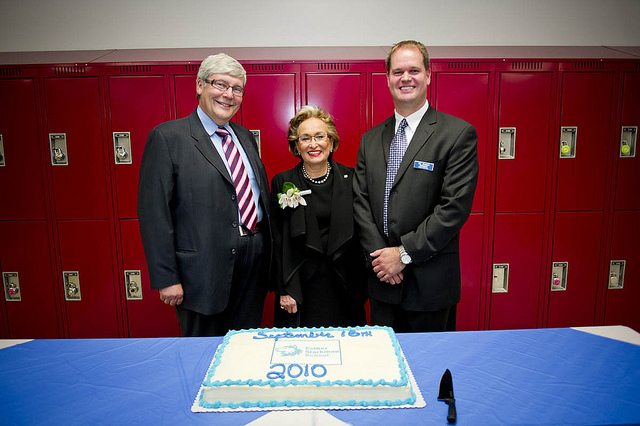 Picture shows Esther Starkman at the school opening with MLA Dave Hancock (left) and Principal Greg Kushnir.
Esther Starkman is a lifelong educator. Born in Edmonton, she began her educational journey in Edmonton Public Schools and continued her studies at the University of Alberta. A teacher by profession, she taught for over 30 years. The first half of her career was spent with Edmonton Public Schools, the second half teaching adults at what is now Norquest College. Esther also served on the Edmonton Public School Board of Trustees from 1989 to 1995 which included a term as Board Chair.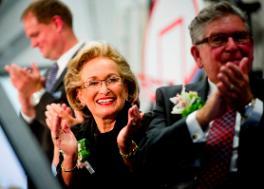 Mrs. Starkman was the driving force behind the creation of READ IN week in 1990. This city-wide annual event, held the first week of October, celebrates its 23rd Anniversary in 2013 with Esther acting as Honourary Chair. READ IN week's purpose is to cultivate a greater awareness of the importance of reading and promote the school systems and post-secondary institutions as important places for the development of lifelong literacy.
Esther has made many great contributions to the community as a member of a multitude of community boards and organizations, including the Citadel Theatre, Cancer Board, CASA Foundation and a National Advisory Board on Fetal Alcohol Syndrome. She has also played an active role in Hadassah-Wizo Canada, and taken a leadership role in The Hebrew Day School (Talmud Torah), most recently as co-chair of their 100th anniversary celebration. Always interested in the greater Edmonton community and its governance, she has maintained an involvement and lively interest in civic, provincial and federal politics.
In 1996, The Minister of National Defense appointed Esther to serve as the sponsor for HMCS Edmonton, one of Canada's Coastal Defense Vessels. This naval tradition bestows an honourary position upon a prominent female in the namesake city and is a life-time designation.
In 2009, The Edmonton Public School Board announced that the new K-9 school in Terwillegar would be named "Esther Starkman School", a fitting tribute to someone whose lifelong association with education, literacy awareness and community service has made a significant impact on our city.
Esther is married to Howard L. Starkman, QC and is the mother of Hilary Gorenstein, New York; Georgina Danzig, Toronto and Daniel Starkman, Edmonton. She is a grandmother of 8.